The seat is a crucial part of bike comfort. Once you decide you will make one on your own, you have to consider many aspects. Will the bike be only for city commuting? For one rider? How heavy? Will the bike be weather protected?
The donor bike Yamaha SR250 had a big, comfortable seat, covered by black vinyl, designed to carry two passengers. However, the new bike aimed to be only for one passenger and the shape had to be simple, yet comfortable.
The first step was to make a base out of 1,5 mil aluminum sheet and several rivet nuts. Then, the right choice of foam was made. Here, I used a very firm, hardened foam and shaped it step by step to a required shape.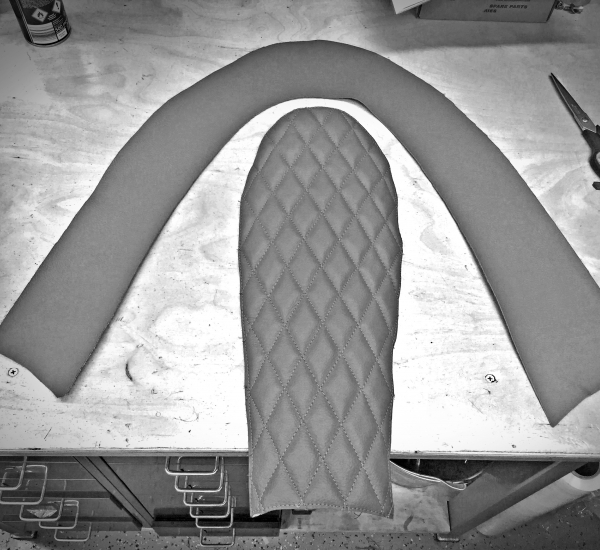 VINYL OR LEATHER? Vinyl is the first choice. However, leather has the character and style. But you have to chose the right one. This one is by an Austrian company Wollsdorf. I sewed the seat cover on an old industrial sewing machine. It is made of two parts. The upper one is sewed together with a thin foam, creating a pattern of diamonds
The grips were intended to be rubber ones. However, the color of the rubber did not really match the color of the seat leather. So, I decided to make them of leather. I replicated the diamond pattern in a smaller size and everything finally fitted together well.
Using genuine leather is a bit tricky. On one side, you love it, on the other side, you have to take care of it. But at the end, it's worth every penny. Isn't it?