Custom building teaches you new things you have never experienced before. One of them, for me, is welding. To be precise, the TIG welding. I could learn it by myself, but I decided to take a certified course and I became a certified TIG welder. Great experience. Stainless steel is my love. Aluminium is a love and hate relationship.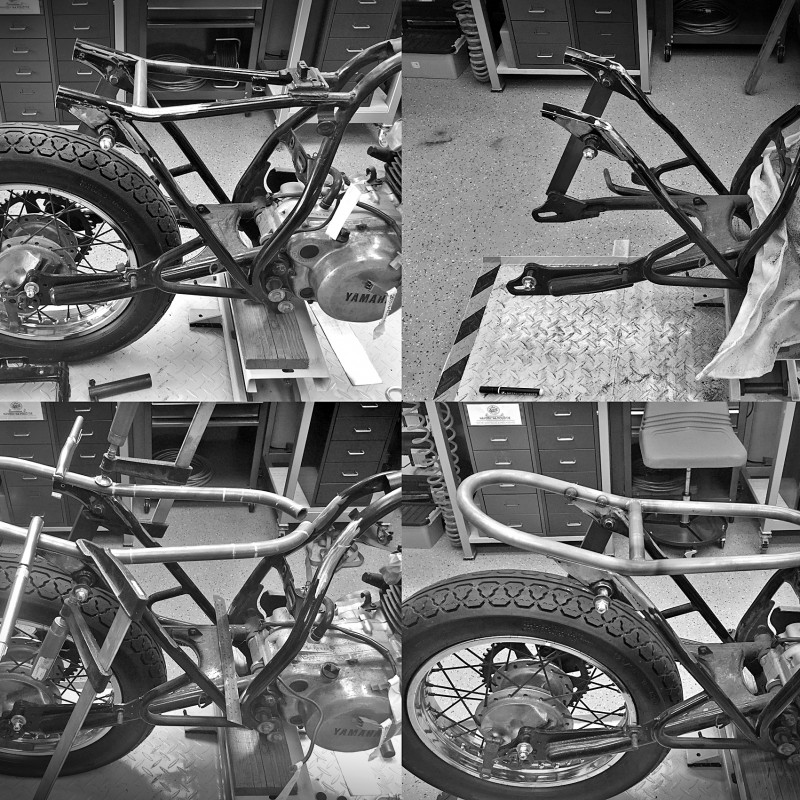 The original Yamaha SR250 frame was completely modified. The whole upper frame was cut and re-made using 22 mil, 14 gauges chrome moly tubing, bended on an incredible JD Bender. After that sandblasted and, along with a modified swing arm, powder-coated in black.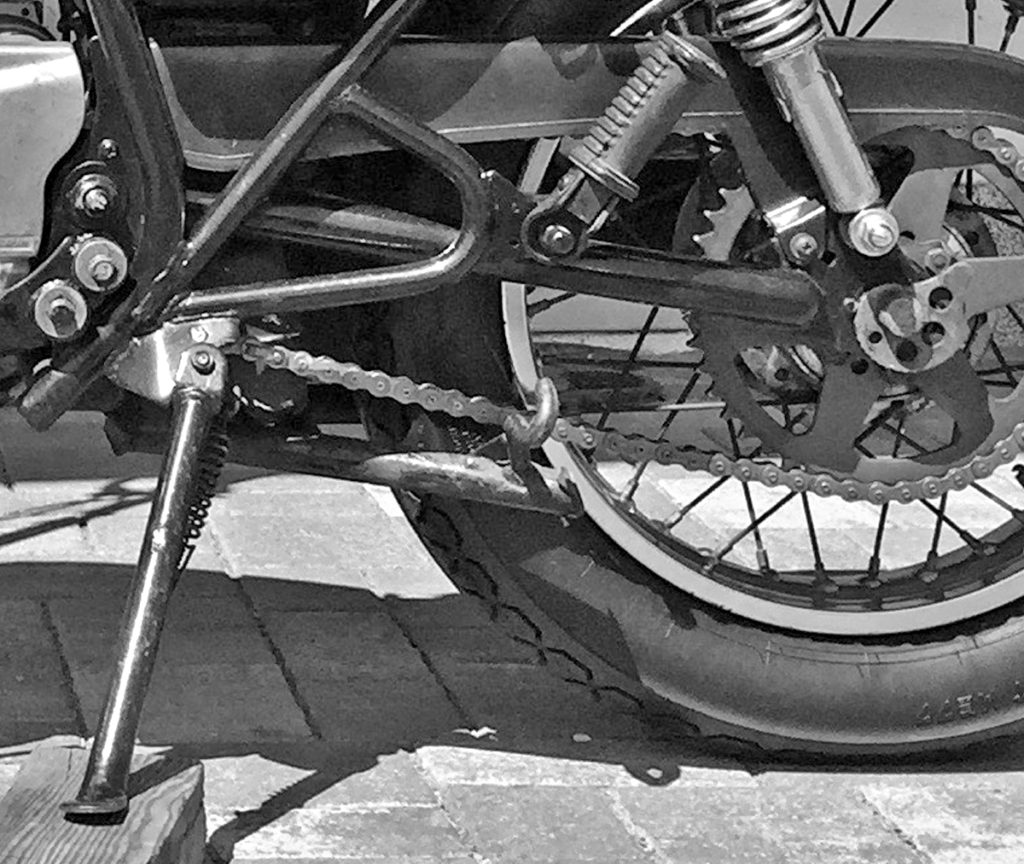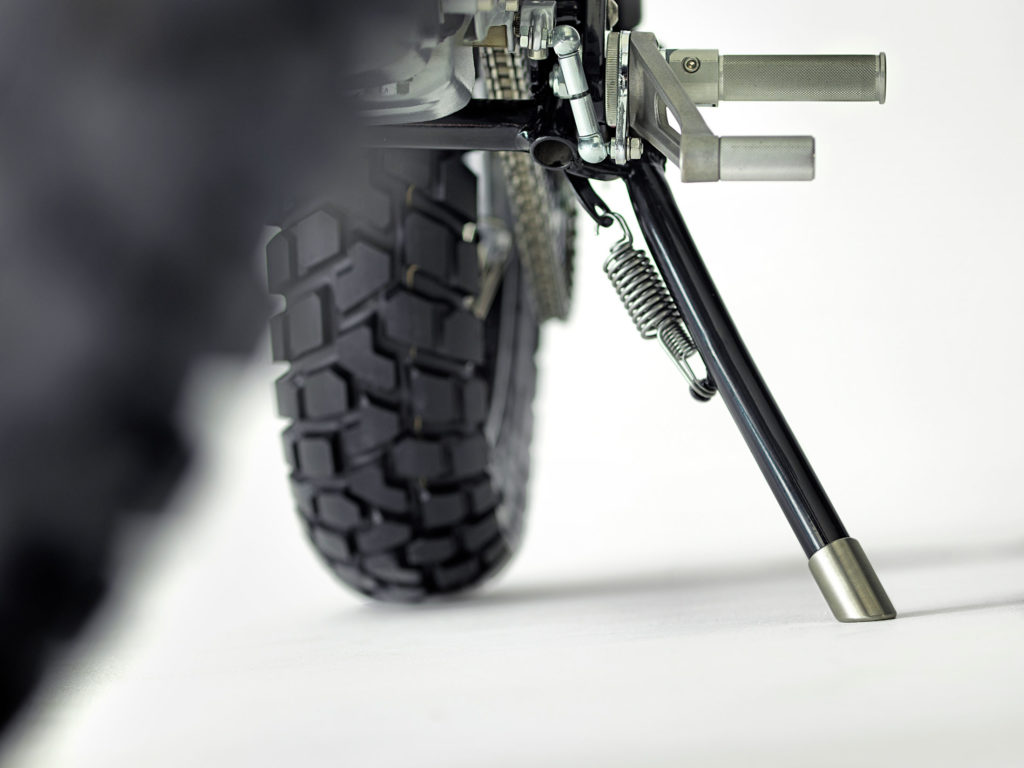 A fun part was a side stand, which disappeared after cutting the rear frame with bends for rear footrests (they were not necessary for one-seater). The stand was redesigned and made from scratch to fit the bike design. It resembles a motocross stand a bit, following the frame shape. The tip is made of stainless steel for practical, as well as design reasons.
Old footpegs were replaced by a rearset from Italian maker Tarozzi. This meant also to get rid of the old brake pedal and completely remake the rear brake system. The same applied to the other side – the old shifter was modified to be linked to the new rearset.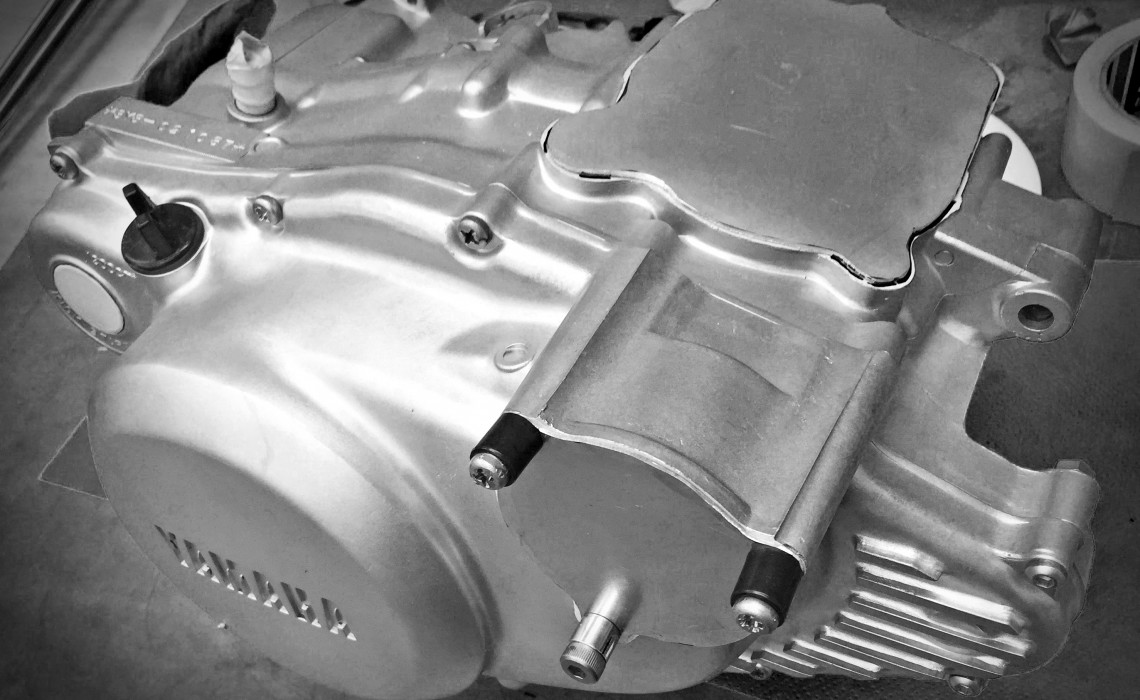 The SR 250 is a great simple engine. However, 37 years was a long way, so it needed some care. The whole engine was taken apart, sandblasted and completely overhauled. The photo shows the engine after sandblasting with temporary aluminium covers, without a cylinder, ready for painting. The castings were painted in high temp satin silver. The cylinder fins were grinded to a nice shape, before painted in satin black. Their edges were aimed to be brushed back to metal, but finally I left them black. The carb was rebuilt and fitted with a custom air filter. Also a custom crankcase vent filter and a custom temp gauge were added.
The original spoke wheels were completely disassembled, sandblasted, painted and put together, using new stainless steel spokes, custom made only for this project in a small Czech manufacture. There are not many people able to center classic spoke wheels. Fortunately, I found one, 60-year-old mechanic, who devoted whole his life to motorcycles. He did a great job.